People assume that Doctor Who episodes are a strict progression from cause to effect, but actually from a non-linear, non-subjective viewpoint, they're more like a big ball of wibbly-wobbly, timey-wimey stuff. Here are five of the most complicated…
Blink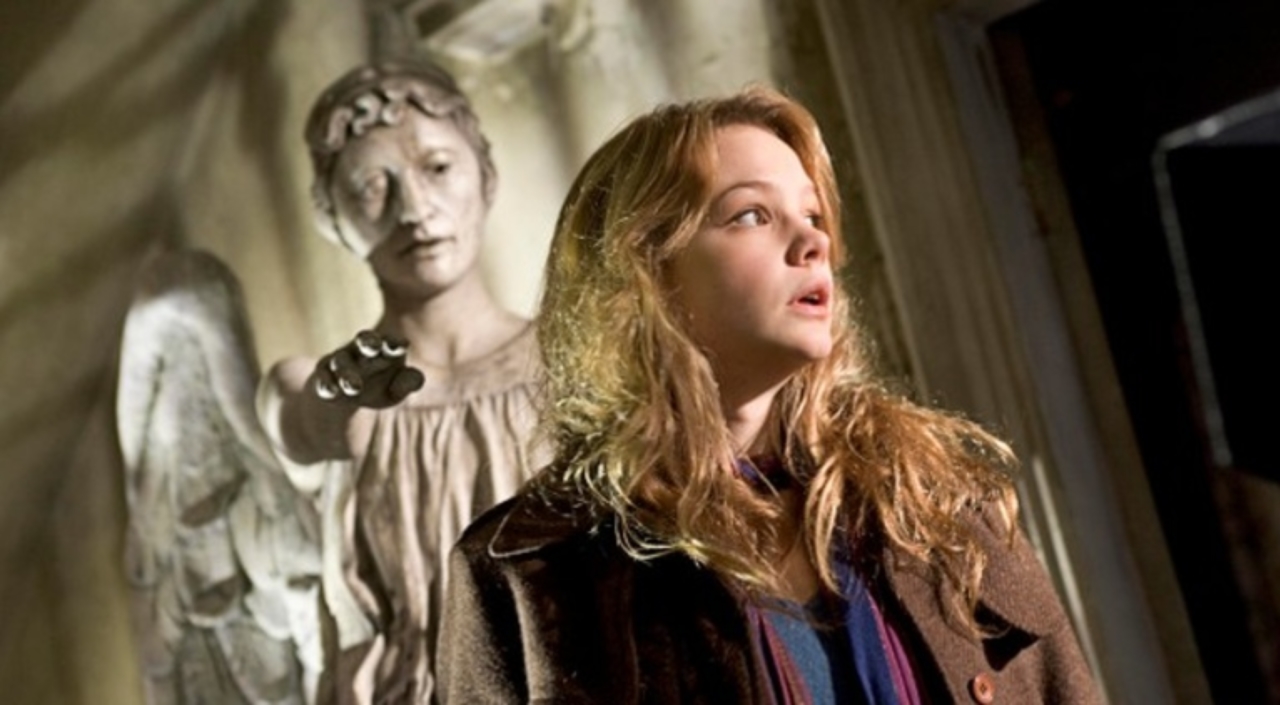 The 2007 episode 'Blink' has gone on to become one of the all-time classic Doctor Who episodes, and saw the debut of the infamous Weeping Angels. But it's far from simple, with a plot revolving around lonely assassins who send their victims back in time, and DVD Easter eggs which play out one half of a conversation which hasn't happened yet thanks to a manuscript which described the conversation as it actually happened. Make sense?
Actually, it does – but you have to pay close attention. Steven Moffat's 'Blink' doesn't set out to deliberately bewilder its audience, but rather to impress with its astute cleverness. Indeed, this Doctor-lite episode arguably shows Moffat at his wibbly-wobbly, timey-wimey best, and 'Blink' is perhaps one of the best-remembered and most-loved Doctor Who episodes of the Tenth Doctor's era. You should watch it again – but don't look away, and don't turn your back…
The Impossible Astronaut / The Day of the Moon
These Doctor Who episodes kicked off the 2011 series and introduced the terrifying Silents. And whilst it was complicated, this two-part story was distinctly epic in scale, and felt more like a season finale than a season opener. In fact, one of the very first scenes saw the Eleventh Doctor getting killed mid-regeneration. The stakes were high.
And whilst these Doctor Who episodes aren't quite as labyrinthine as some of the others on this list, they don't make complete sense on their own as they leave a number of unanswered questions which wouldn't be resolved until the very end of the series, such as who the little girl in the spacesuit was, who the woman with the eye patch was, how the little girl had the ability to regenerate, and who she would turn into.
Moreover, these Doctor Who episodes (in true Steven Moffat style) don't exactly take place in sequential order. 'The Day of the Moon,' for example, does a certain amount of jumping backwards and forwards in time, and it turns out that the Eleventh Doctor who confronts the astronaut on the beach is in fact… well, spoilers. Keep a notepad handy, and a straw (it adds extra fizz.)
The Curse of Fenric
The next of our Doctor Who episodes comes from 1989, and sees the Seventh Doctor and Ace tackle a creature from the dawn of time, an evil being called Fenric with an epic masterplan, an army of haemovores, Russian soldiers, British soldiers, and the universe's deadliest Chess game. There's a lot going on in 'The Curse of Fenric,' and it must have been even harder for the viewers of 1989 to follow, as its action was spread across four weeks.
But does it make sense? Absolutely. The thing with these Doctor Who episodes, though, is that they require close attention. The viewer is given everything they need to understand the various plot elements and to see how they fit together, but they will get lost if they miss a few crucial lines of dialogue. 'The Curse of Fenric' moves at a fast pace, and requires the viewer to keep up.
And even if you walk away not quite knowing what you've watched, there's no missing the emotional heart of this tale. 'The Curse of Fenric' throws a blistering spotlight on Ace and her troubled relationship with her mother – something that will likely resonate with viewers of all ages. As one of the final stories of the Classic Series, this Doctor Who adventure is well worth your time.
Sleep No More
Back in 2015, Doctor Who stepped into the 'found footage' genre for the first time with a story set on a space station which was told entirely through the ship's camera system. The footage had all been pieced together by a man called Rassmussen who also acted as the episode's narrator.
And like all good Doctor Who episodes, this one had a particularly scary monster in the form of the Sandmen, who were literally made up of the crusty remnants of human sleep. They came into being due to the Morpheus corporation's sleep pods which have the ability to compress a month's worth of sleep into a few minutes.
But where things get a bit mind-bending is when the Doctor realises the whole scenario seems a little contrived. And (spoiler alert) it is; Rasmussen reveals himself to be a Sandman who has been pulling the strings all along, and has pieced together the video so that it can be sent out into the universe and allow Morpheus to spread, as it also contains a malignant signal encoded into its glitches.
Rasmussen dies while he is still recording his part of the video, though, so the jury's still out as to how he managed to piece the whole thing together. Any takers?
Ghost Light
'Ghost Light' is one of the most beloved Doctor Who episodes from the Seventh Doctor's era, even if nobody quite knows what it's all about. Don't worry, though – we've got you covered in this article.
On paper, it seems like a classic 'haunted house' story, and indeed it's all set in a creepy Victorian mansion with bizarre residents and lots of aptly-timed thunder and lightning. But 'Ghost Light' is far from simple, and that's one of the reasons why it is so beloved. It doesn't spoon-feed its viewers, and whilst it certainly contains all of the vital plot information, the viewer may be left puzzled if they miss a key line of dialogue.
Part of the confusion stems from a character called Control, and script editor Andrew Cartmel admitted many years later that he finally understood why this character befuddled so many people. The name Control was meant to refer to the Control element of an experiment, as opposed to someone who controlled a spaceship (there is a spaceship buried in the mansion's cellar. Naturally.)
Still, the great thing about many Doctor Who episodes is their replayability, and 'Ghost Light' with all its twists and turns certainly lends itself to multiple viewings. And if in doubt, check out the Lovarzi guide.
But over to you. Which do you think are the most complicated Doctor Who episodes? Let me know in the comments below.
---
---
Shop on Amazon
---
Latest posts