Ah the Seventh Doctor's outfit… We've all been there. You never know when you might find yourself suddenly in need of an emergency question mark pullover and Panama hat. So, if you're seeking some urgent Seventh Doctor garb and don't know where to begin your search, this quick cosplaying guide will (hopefully) point you in the right direction.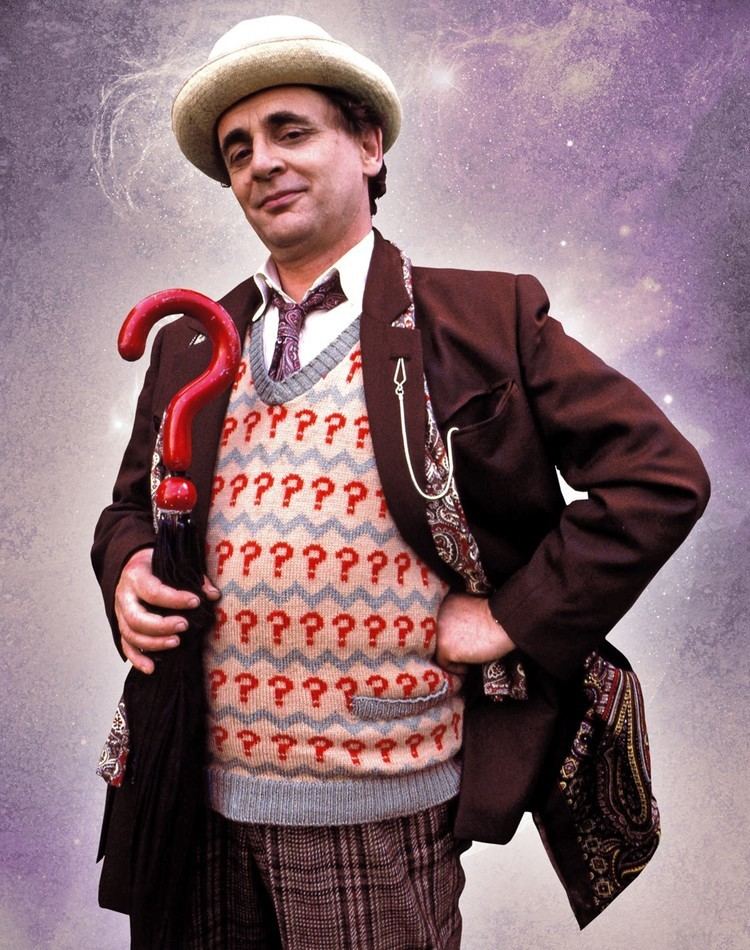 Panama hat (with hatband)
As I just mentioned, Doctor number seven's preferred headgear was the classic Panama, available from all the best hat retailers. You'll want something something white; not dazzilingly so, but not-quite-cream either. Tricky, right? Fortunately, there are many variations to chose from on Amazon.
When it comes to the hatband, though, Lovarzi has you covered with our replica Seventh Doctor hanky – officially licensed and based on the originals as purchased by the BBC's Ken Trew in the 1980s. (Maybe buy a second one to stuff in the jacket pocket as well…)
Shirt, tie and Paisley scarf
The Seventh Doctor's outfit was much smarter than the baggy trousers would have you believe (more on those later.) Above the waist, you'll need to buy yourself a simple white shirt and tie – the latter being of the Paisley variety, much like the hanky I just mentioned. For this, you can use our Seventh Doctor silk Paisley scarf which – you guessed it – will also work for the scarf on the outer jacket. If you want to be super-authentic, though, maybe crawl the internet to see if you can find something a little darker…
Question mark tank top
Now, the Seventh Doctor's jumper can be a little trickier to source. For some unfathomable reason, it appears to have bypassed most of the major high street retailers and hasn't quite had the same impact as today's onesies and down coats. Not to worry though… We're blazing the fashion trail here at Lovarzi and have a whole selection of question mark tank tops in a range of sizes. Get yours today and become both enigmatic and Instagram famous.
Jacket
You have a couple of options for the Seventh Doctor's outer garb. For the jacket, it will depend on whether you're cosplaying Series 24 / 25, or Series 26. (For the TV Movie or even the Virgin New Adventures – we're gonna need a bigger article…) For number Seven's early years, you'll want an off-white tint that matches your hat, and something lightweight (maybe even linen.) This is waist-length – nothing long and flowing like the Tenth Doctor. The same applies to Series 26, only in dark brown.
Also you'll want something with a couple of pockets built in, to store your Seventh Doctor Paisley hanky…
Plaid trousers
Surprisingly fashionable these days! (Actually, is it surprising? They look great.) In fact you may even have spotted Peter Capaldi's Doctor sporting them on more than one occasion. Getting a precise match for number Seven, however, requires some investigation; you may have to venture onto page three or even four of Google. Basically – you don't want anything too tight, nor too baggy. We've identified a possible option here, but you never know what you might uncover if you dig deep enough on eBay…
Shoes
Okay, this one's much easier! For the Seventh Doctor's footwear, you want a decent pair of two-tone Brogues, preferably in brown and cream. A simple search online should point you in the right direction. Bear in mind, though, that as the Seventh Doctor you'll be spending a lot of your time running across desert wastes, so be on the look-out for something comfy and durable.
Question mark umbrella
Finally, the Seventh Doctor's outfit would not be complete without the iconic question mark brolly! Again – not something M&S has a huge selection of these days, and the official replicas are (currently) quite scarce. You might need to lurk on eBay, or seek a sympathetic friend. Or heck, maybe you can adapt a red ping pong ball and black umbrella and fashion your own? The crafting starts here…
So there we are – our brief guide to the Seventh Doctor's outfit, made possible by the power of Google and some official BBC licensing (thanks BBC!) What do you think? Have we missed anything out? Can you improve on our suggestions? Or do you have examples of your own Seventh Doctor cosplaying in action? If so, please send us your pics – we'd love to see them!
---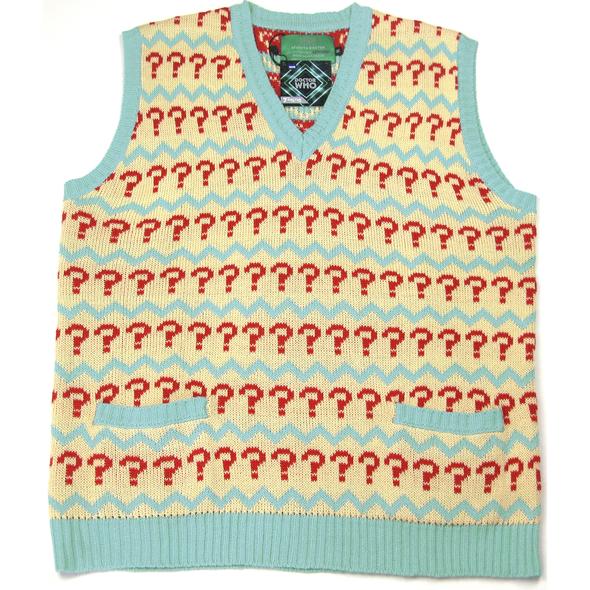 Seventh Doctor jumper – Doctor Who 7th Doctor (Sylvester McCoy) question mark tank top sweater. Order now from the Lovarzi shop!
---
---
---