It's surprising that, after almost 60 years, there are some Doctor Who questions that remain unanswered. And whilst we may never know the Doctor's true identity (or where they really come from) is it time that we learned the truth about the mysterious TARDIS doors, and why Adric had to die?
Why don't the TARDIS doors match up?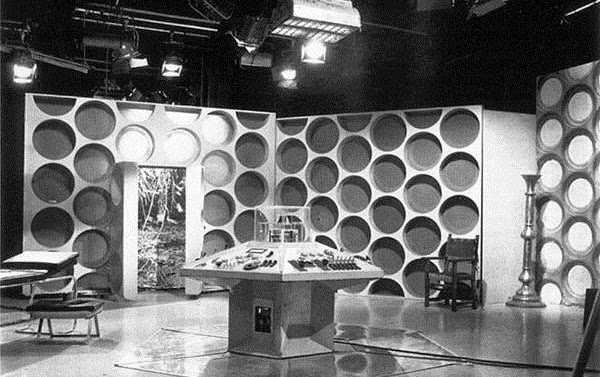 Of all the Doctor Who questions, this one is hardly going to melt the forums – but it's one that's always interested me. Until 2005, there was a noticeable mis-match between the inside and outside doors of the TARDIS. People entered through the doors of a police box, and yet on the inside the doors were much larger (and wider) and decorated with roundels. So why didn't they match up?
Obviously, the TARDIS was originally intended to blend in with its surroundings wherever it landed, meaning that its doors would change every time, so it kind of makes sense that the console room would adhere to a uniform design. But how does that work in reality? How can police box doors just disappear?
Interestingly, this issue was addressed for the Peter Cushing movies – and indeed for the 2005 season and beyond – but we're still owed an explanation. Surely there's a Big Finish box set to be made here?
Why does WOTAN refer to the Doctor as Doctor Who?
I won't dwell on this point too much as I recently did a much longer piece on the subject, but of all the Doctor Who questions, this one's a biggie. Because in the 1966 story 'The War Machines,' the evil computer WOTAN summons the Time Lord by name and refers to him as Doctor Who – but of course, that was never the Doctor's title (he was simply referred to as the Doctor.) "Doctor who?" was a question that was originally asked by his companion Ian.
Or is there a deeper meaning here? Is the Doctor's name really Doctor Who and we've been missing a crucial piece of information all these years? It's possible, and this is something that Steven Moffat hinted at in the 2017 episode 'World Enough and Time.'
But in all likelihood, it's probably just an error on the behalf of the production team.
Why can't the Doctor save Adric?
This is one of those Doctor Who questions that has the potential to fry your brain. In the 1982 story 'Earthshock,' the Doctor's companion Adric is killed after his spaceship crashes into planet Earth and wipes out the dinosaurs. And in the subsequent story, his companions Nyssa and Tegan plead with the Doctor to travel back and save him; he has a time machine, after all.
But the Doctor insists that this is impossible. There are some things that he can never do and there are some rules that can never be broken. But what are these rules, and why can't they be tampered with? We may never know.
Certainly, the Doctor has changed his tune a bit by the time he reaches 'The Waters of Mars' in 2009, where he angrily declares that the laws of time are his, and that they will obey him. And he uses this realisation as justification for saving the stricken crew of Bowie Base One.
And so, presumably, the Doctor could have applied this principle to Adric – or indeed to any companion that he had lost. So why didn't he go back and save Rose as well, and stop her from being sucked into a parallel universe? The Doctor does mention in 'The Parting of the Ways' that as soon as the TARDIS lands he becomes "part of events" and "stuck in the timeline," but this raises more questions than it answers…
When did the Doctor and Mel first meet?
Again, this is another of those Doctor Who questions that could induce headaches. Now, it's possible that Big Finish has already addressed the issue of Melanie Bush (let me know if so!) but in terms of the TV timeline, her existence is something of a problem. You see, when we first encounter Mel in part nine of 'The Trial of a Time Lord,' we're looking into the Doctor's future. She's already travelling with the Doctor, and we're never shown their first meeting.
Except we are. Because in 'The Trial of a Time Lord' part 13, the Doctor meets Mel for the first time in the Gallifreyan courtroom. But this version of Mel already knows the Doctor, and has been brought back in time in order to be a witness at this trial. But she then leaves with him in the TARDIS at the end of part 14, meaning that her life is a constant loop, going to the courtoom, leaving in the TARDIS, going to the courtroom, and so on.
So how do we get around this problem? Did the Doctor drop her off at the appropriate time, and then meet her 'for real' at some other point in the future? In which case, when and where was this? Answers on a postcard, please.
Who is the woman in 'The End of Time'?
This is one of those Doctor Who questions that may never be answered – and perhaps for good reason. In David Tennant's last story, his companion Wilf is followed by a mysterious woman in white who issues him with dire warnings about the events that are about to transpire. Wilf never learns her name, but he does discover that she is a Time Lord, as he spots her standing in Rassilon's entourage.
And this one of those Doctor Who questions that is addressed in the programme itself. Indeed, Wilf asks the Doctor directly, but the Time Lord says nothing; he simply looks at Donna's mum, and then at Donna, and changes the subject.
So does this mean that we will never know? Well – yes and no. Although it's unlikely that the woman's identity will be revealed in a future episode, the writer Russell T Davies did offer an explanation in his commentary for 'The End of Time,' saying that the woman was likely to be the Doctor's mother.
Intriguing! Of course, trying to figure out how this connects to the events of 'The Timeless Children' could rip a hole in the fabric of the space-time continuum.
So what do you think of these Doctor Who questions? Are you able to answer them? And can you think of any other lingering mysteries that have yet to be explained? (Like, why wasn't the Doctor blown up in 'Timelash'?!) Let me know in the comments below.
---
---
Shop on Amazon
---
Latest posts…