I'm a Doctor Who fan; double (or even triple) dipping defines me. I've paid for 'The Enemy of the World' three times, and goodness knows how many copies of 'Spearhead from Space' I have under my belt.
So with this re-release of the animated 'The Power of the Daleks' (which originally came out in 2016) I had serious questions about shelling out for something that I essentially already owned. If you have the same questions, here's a little piece to help you make up your mind. Will you have your Power?
Now, I bought the standard Blu-ray edition of the new 'Power of the Daleks,' which claims to have improved animation. First off, this claim is certainly debatable. I say this because I think the original animation was pretty darned good, as Doctor Who animations go. In fact, it may be the best we've ever had. The Daleks, in particular, were flawlessly realised, and it's hard to see how they could really have been "improved."
Admittedly, I haven't done a side-by-side comparison of my two copies of 'Power,' but I did notice that they'd changed the TARDIS' time rotor into a masterfully-rendered, shiny 3D object, which was a joy to behold. It really does look like a 'no expense spared' endeavour, and I appreciate how much love and attention has gone into it. And I'm sure there are many more subtle enhancements that I've missed. Like, I could be wrong, but I swear they've added a little motion blur to some of the faster animations, which is a nice touch.
However, some "improvements" are subjective. For instance, they've removed the chequered pattern from the Second Doctor's trousers, having revealed in the DVD commentary that they had been (understandably) difficult to animate. They've also chopped out the sequence where the Doctor plays his recorder shortly after his regeneration, and does a little jig – apparently because the original rendering of this moment didn't pass the animators' quality control.
I do wonder, though, if these animators were a little too close to their own work? Having recently re-watched the original 'The Power of the Daleks' animation, I must admit I never had any issues with the Doctor's trousers, and I thought his recorder playing (and dancing) was nicely realised. I've seen plenty of terrible animations in my time, and I wouldn't count these moments among them. For me, it's a real shame that they've been dropped from the special edition.
Then we have the extensive special features which, in my opinion, really do cater to the avid Doctor Who enthusiast. It's clear that the producers of this 'Power of the Daleks' offering have gone all-out to really deliver something of value. In fact, it's a level of thorough that challenges even my own interest, and pieces such as Patrick Troughton's earliest surviving TV appearance (in a 1953 episode of Robin Hood) plus a documentary about the psychology of horror weren't really my cup of tea. But I love that someone has gone to the effort of sourcing these, and even taken the time to clean them up and make them as presentable as possible. It's hard to think how anyone could make a 'Power of the Daleks' product more definitive.
I say this because we even have things like the original 1993 audiobook release featuring a commentary from Tom Baker, and a rather nice photographic reconstruction of the story (with an optional audio description track from Anneke Wills) bringing us as close to the original 'Power of the Daleks' as we're ever likely to get – unless we find a copy in Singapore, right?
This reconstruction also includes the story's surviving footage – such as the off-air snippets made by a viewer pointing a camera at a TV screen – and I really must say something about this. The restoration is outstanding. Never have those off-air pictures looked so good. In fact, you could even believe you were watching genuine film copies. Remarkable.
There's also the new 'Script to Screen' documentary narrated by Toby Hadoke which is a fascinating watch, with much directorial insight provided by Doctor Who stalwart Graeme Harper, who worked as a floor assistant on 'Power' (who knew?!) And again, this really is a hardcore documentary, with Hadoke anecdotally telling the viewers what the weather was like on the day of the first rehearsal(!) I mean, wow. As bonkers as some of this is, I love how much geeky love has been poured into this release.
I haven't got time to go through all the extras included with this release, but trust me when I say there's a lot to sift through, including TV and radio news reports, ROM content (including the original scripts) and interesting pieces of animation test footage. One highlight for me was the inclusion of Daleks: The Early Years, presented by Peter Davison – a VHS documentary from 1992 that originally featured the surviving episodes of 'The Daleks' Masterplan' and 'The Evil of the Daleks.' Obviously, these episodes have been omitted in their entirety, but some clips have been included in their absence, and for people like me who owned the original cassette, this documentary is a lovely piece of nostalgia.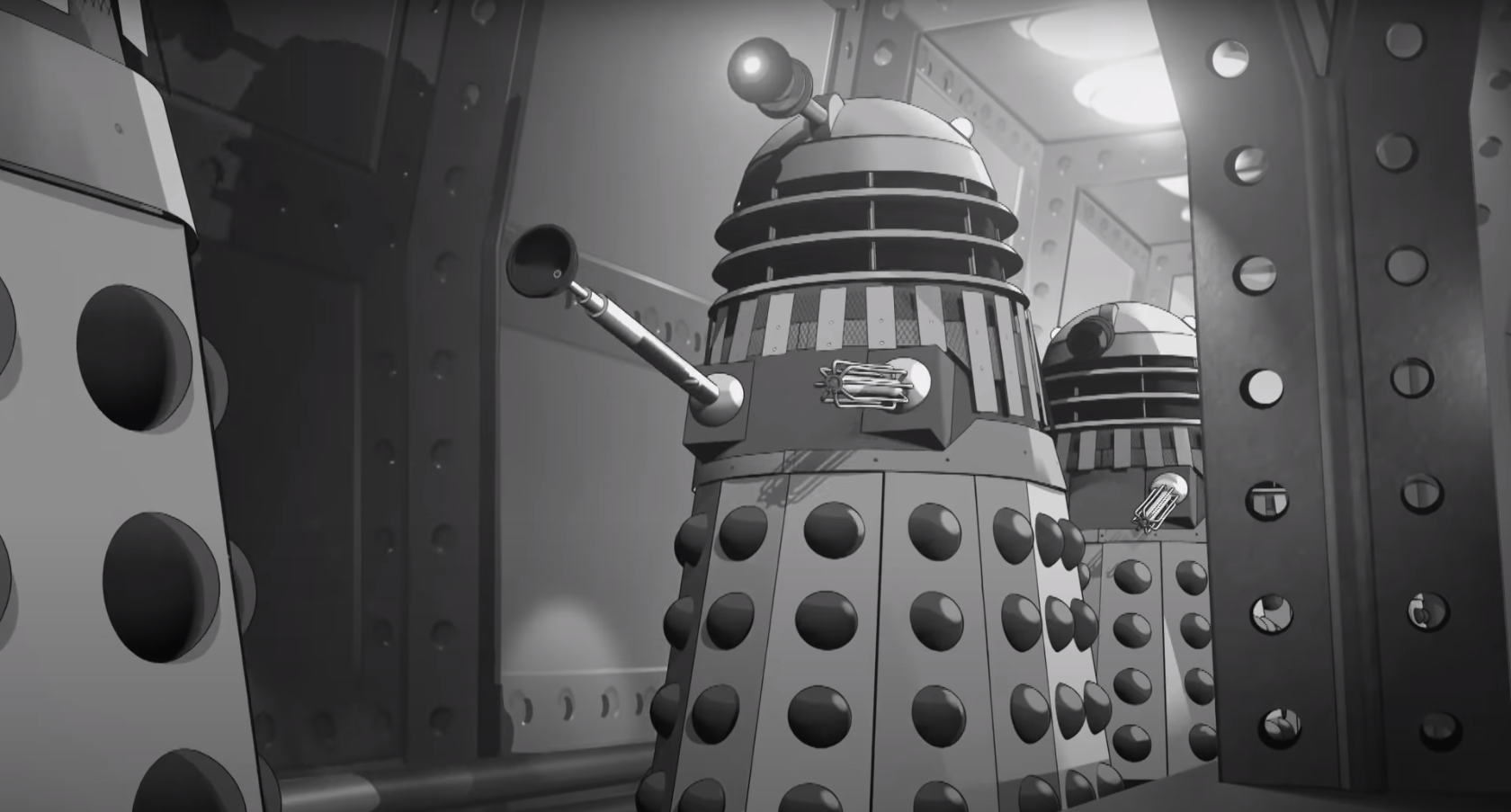 I was also massively impressed with the high definition clean-up of the First and Second Doctor title sequence, which has been sourced from the original film. It's only a short feature but trust me when I say that those swirling clouds have never looked so good, and it does make me wonder what a season box set of William Hartnell episodes could eventually look like. Let's start a petition for The Collection: Season Two, shall we?
So overall, can I recommend 'The Power of the Daleks' Special Edition? Absolutely. The BBC has really gone for it with this release, and it's clear that they wanted to deliver something truly of value. In fact, the cost of producing something like this does make my eyes water. (Trivial aside, but I've had my own works classified by the BBFC, and for the unfamiliar let me tell you it's crazily expensive. The BBFC charges per minute of footage, and each commentary track / subtitle track counts as a separate pass, so the costs can shoot up like nobody's business. And when you think of the number of discs and audio options going on with this special edition, plus the expense of the animation itself, I shudder to think how much Aunty Beeb forked out.)
In short, nothing about this release is cheap, and I respect that. This really is the ultimate edition of 'The Power of the Daleks.' If you're a Doctor Who fan, I really don't think you'll be disappointed with this release.
For further reading, check out our special guide: 'The Power of the Daleks: Everything you need to know.'
Also, is there still hope of finding 'The Power of the Daleks'? Read more here.
---
---
Purchase on Amazon…
---
Latest posts…
---